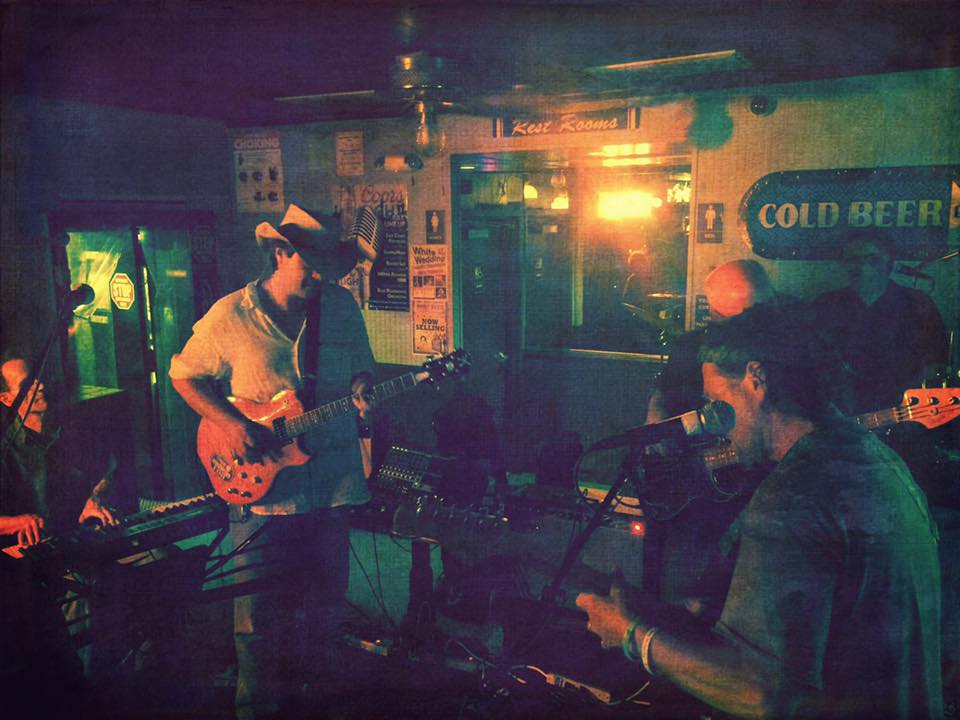 How much does it cost to hire BRO? – We can cater the bands size to your unique needs and budget. From a solo Acoustic ambiance, a Jazz trio or a 5-10 piece band, BRO will work with you to get just the right sized band for your event. Call us and we will go the extra mile to be sure you get personalized, expert guidance in choosing the right entertainment for your event.below.
---
My friends raved about BRO after seeing you at a recent event. They highly recommended the band. Will we get the same band they saw and loved? – In most cases YES. But we do customize the band for every event. The core of the band remains the same, but for example, we do add on a full horn section for some events. At times we trim the band a little to help you keep on budget while still providing fantastic live entertainment. We know that your event is a special day and we want to make sure you get the right band for the size of your party, venue and entertainment wishes. Call us and we will be happy to LISTEN to your needs, and explain all the options we can provide for your event.
---
Half our family loves the idea of a live band and half loves the idea of DJ. What do we do? – You hire BRO and we bring the Band AND a DJ. We have excellent relationships with several fantastic DJ's who love working with us. The best of both worlds and it won't break the bank because we work out a special deal with the DJ for you. The Band and DJ work together to give your guests a full complimentary experience of both styles of entertainment.
---
Does the Blue Roadhouse Orchestra have a songlist? – BRO customizes the songlist for every event. On some gigs it's appropriate to work without a songlist and on some gigs it is better to work out a framework of songs with You the client.
We always read the crowd.
We are happy to learn any song for a client. If you have a special song just let us know and we will be sure to work it up for your event.
Below is a list of songs we have played in the past. This list is always evolving
How Sweet it Is
Aint To Proud To Beg
Hey Pocky Way
Pride and Joy
Twist n Shout
Soul Man
Proud Mary
I Feel Good
Josie
American Girl
Pink Cadillac
Knock on Wood
Honky Tonk Woman
Old Time Rock n Roll
Superstition
Into the Mystic
You Belong To Me
Whats Going On
Sweet Caroline
I Shot The Sheriff
Dock of the Bay
Run Around Sue
The Wanderer
I Wish
Mustang Sally
Satisfaction
Tore Up Over You
Domino
The Way You Do The Things You Do
Miss You
Caravan
Get Lucky
Hey Soul Sister
Counting Stars
Viva La Vida
Sing A Simple Song
Roll Over Beethoven
Love the one your with
Sweet Home Alabama
After Midnight
Johnny B Goode
Brown Eyed Girl
Gimme Some Lovin
Good Lovin'
Get Back
Good Times Bad Times
Peg
Cissy Strut
Back in USSR
I'm Not Feeling It No More
Let The Good Times Roll
Tore Up Over You
Dead Flowers
Fire n the Bayou
Mercy Mercy Mercy
I Feel Good
Gimmee some Lovin'
Boogie On Reggae Woman
Day Tripper
Jambalaya
Happy
Statesboro Blues
Handa Wanda
Further Up The Road
Highway to Hell
Lean On Me
Rolling Stone
3 Little Birds
No Woman No Cry
Jammin
Squeezebox
Pinball Wizard
Won't Get Fooled Again
All Over Now
Let It Bleed
Honky Tonk Women
Jumpin Jack Flash
Sir Duke
Here Comes the Sun
I Feel Fine
One Way Out
Blackbird
Can't Buy Me Love
Dear Prudence
Saw Her Standing There
Ramblin Man
Whippin Post
Done Somebody Wrong
Take It Easy
Trouble No More
After Midnight
All Along the Watchtower
Baba O'Reily
Doesnt Remind Me Of Anything
California Stars
Sedated
Blitzkreig Bop
Blvd. of Broken Dreams
Born on the Bayou
Born To Run
Build Me Up Buttercup
Can't Find My Way Home
Chain of Fools
Come As You Are
Come Together
Crossroads
Dani California
Desperado
Dixie Chicken
Devil With A Blue Dress
Don't Stop Believing
Down By the River
Down on the Corner
Peaceful Easy Feeling
Evil Ways
Foxy Lady
Frankenstein
Free Fallin'
Any Major Dude
Good Riddance 
Have I Told You Lately That I Love You
Your Gold Teeth II
I Fought the Law
Imagine
Its Only Rock and Roll
Jet Airliner
Join Together with the Band
Joy To The World
Led Boots
Just My Imagination
Keep Rockin' the Free World
Lawyers Guns and Money
Learn to Fly
Livin' on a Prayer
Locomotive Breath
London Calling
Lonesome Whistle Blues
The Martyrs Cafe
Old Time Rock & Roll
Pump it up
Psycho Killer
R.E.S.P.E.C.T.
Ring of Fire
Roadhouse Blues
Rock And Roll
Rockin' Robin
Second That Emotion
Shakin All Over
Should I Stay Or Should I Go
Spanish Moon
Still Haven't Found What I'm Looking For
The Ocean
The Shape I'm In
The Thrill Is Gone
Two Trains
Ophelia
Voodoo Child
Ware-wolves of London
Won't Get fooled Again
Who Are You
Special Events : Hebrew songs
Hava Nagila-
Hey Venu Shalom Alechem –
Oh Se Shalom Bim Romav –
Tzena Tzena
Od Yishama
Sisu Et Yirushalayim
Lach Yerushalayim
Yesh Lanu Tayish
Special Events : Jazz
The Way You Look Tonight
We've Ended As Lovers
St Thomas
Fly Me To The Moon
Footprints
Blue Monk
All Blues
How Insensitive
Autumn Leaves
Girl from Imponema
Little Sunflower
Freddie Freeloader
Solar
Song For Bilbao
All The Things You Are
Autumn Leaves
Blue Bossa
On Green Dolphin Street
My Favorite Things
Caravan
The Lonely Woman
500 Miles High
Take 5
---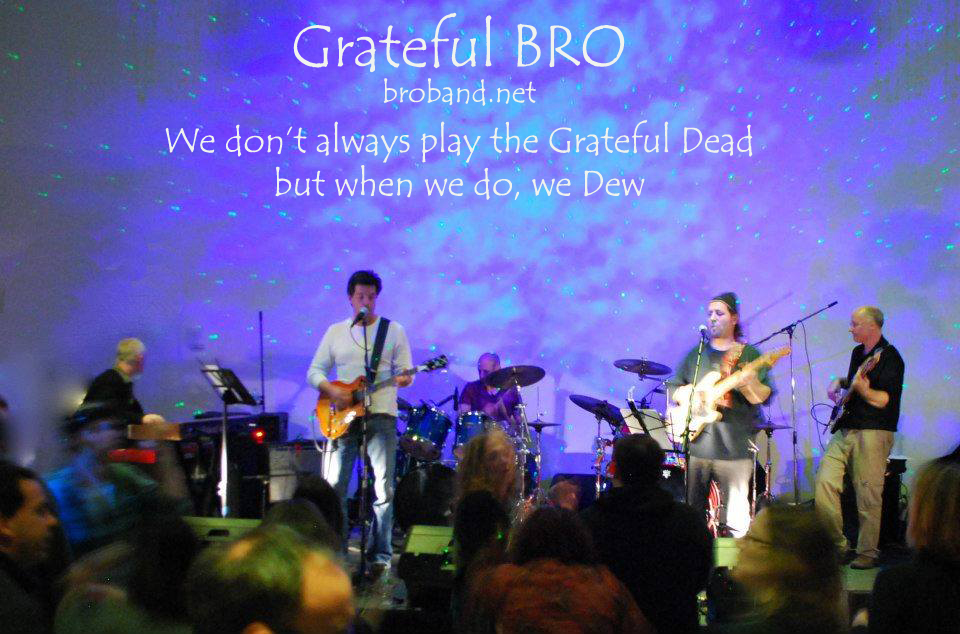 What is Grateful BRO? – On Special Occassions BRO morphs into "Grateful BRO". As "Grateful BRO" we perform Grateful Dead Inspired Music. These special shows are sometimes themes like "Winterland 77" or "Fillmore 1969" etc. But, more often they are just an honest approach to the Grateful Dead Songbook within a general sort of framework. As in, anything can happen, and that seems appropriate to us. Some songs we have performed as Grateful BRO…. and the list evolves.
Alabama Getaway
Alligator
Althea
And We Bid You Good Night
Around And Around
Casey Jones
Beat It On Down The Line
Bertha
Big Boss Man
Big Railroad Blues
Bird Song
Black Peter
Brokedown Palace
Brown Eyed Women
Candyman
Cassidy
Catfish John
China Cat Sunflower
China Doll
Cold Rain And Snow
Comes A Time
Crazy Fingers
Dancing In The Street
Dark Hollow
Dark Star
Deal
Death Don't Have No Mercy
Dire Wolf
Don't Ease Me In
Dupree's Diamond Blues
Easy Wind The Eleven
Estimated Prophet
Eyes Of The World
Feel Like A Stranger
Fire On The Mountain
Franklin's Tower
Friend Of The Devil
Goin' Down The Road Feeling Bad
Hard To Handle
He's Gone
Help On The Way
Here Comes Sunshine
High Time
I Know You Rider
I Need A Miracle
I Second That Emotion
I'm A Hog For You
I've Been All Around This World
It Hurts Me Too
It Must Have Been The Roses
It Takes A Lot To Laugh, It Takes A Train To Cry
It's All Over Now, Baby Blue
Jack-A-Roe
Jack Straw
Let It Grow
Let It Rock
Loose Lucy
Loser
Playing In The Band
Mama Tried
Me And My Uncle
Might As Well
The Mighty Quinn (Quinn The Eskimo)
Milkin' The Turkey
Mississippi Half-Step Uptown Toodeloo
Monkey And The Engineer
Morning Dew
Mr. Charlie
The Music Never Stopped
New Minglewood Blues
New Speedway Boogie
Next Time You See Me
Not Fade Away
On The Road Again
One More Saturday Night
Peggy-O
The Promised Land
Ramble On Rose
Saint Stephen
Samson And Delilah
Scarlet Begonias
Shakedown Street
She Belongs To Me
Ship Of Fools
Sittin' On Top Of The World
Slipknot
Smokestack Lightnin'
Stella Blue
Sugar Magnolia
Sugaree
Tennessee Jed
Terrapin Station
That's It For The Other One
They Love Each Other
Truckin'
Turn On Your Lovelight
U.S. Blues
Uncle John's Band
Viola Lee Blues
Walking The Dog
Wang Dang Doodle
Weirdness
Werewolves Of London
West L.A. Fadeaway
Wharf Rat
The Wheel
What is BROTATOCHIP? – There is no BROTATOCHIP. But if you have read this far and you book the band and mention BROTATOCHIP at the time of the booking you WIN A PRIZE!